Rolling Hands
9146 Centaurus Circle
Burnaby, BC
V3J 7R1
Phone: 778-928-2266
Email: rollinghands"@"gmail.com
[ninja_form id=1]

Hello,
I have been studying Wing Chun Kung for about 7 years; and previously trained in Shaolin Kun Tao.
It's a great and rewarding martial art that is open to all who present themselves!
It teaches you to move to center, enter space and be present. Being relaxed is important.
My professional background includes a bachelor's degree and master's degree, work with children
and families in counselling and a shift into digital marketing for tech companies. Life is an adventure!
Currently, I am pursuing a master's degree in legal studies at SFU. This allows me some free time to expose adults and youths living in Coquitlam, Port Moody, Maple Ridge and Pitt Meadows to this gentle and powerful art!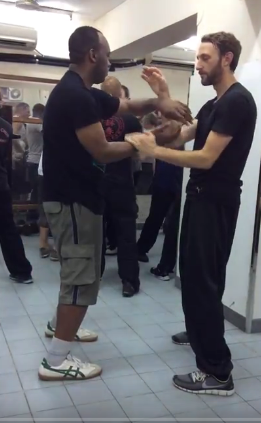 My arms and joints are inside my opponent. I am in the best position!
I teach at my home in Burnaby located just a 5-minute walk from Lougheed Mall and Cameron Recreation Center.
I offer private lessons in Wing Chun. It's a highly specialized skill that does not place a reliance on large muscles. Instead, it teaches you to move your joints and limbs to enter the space that is made available to you by an opponent.
It's unlike anything I've ever experienced.
The ages that are best for Wing Chun range from 14 – 60, and male or female. It helps if you have some interest in Chinese culture, kung fu or martial arts. (Parents are welcome to watch classes; but coaching is not allowed.)
Wing Chun is the primary art of Bruce Lee. He was taught by Yip Man who is the founder of this style of Chinese kung fu.
I hope that you enjoy Wing Chun as much as I do.
Best Regards,
Paul Williams
Classes:
Enquire about available times.
Fee:
$50 / hour
$160 / month (4 lessons)
Phone: 778-928-2266
Email: rollinghands(at)gmail.com
Here is a great litle video from a school of Wing Chun Kung Fu in Portland, Oregon. The video does a good job of capturing the experience of working for new students. Many people appear to have a common experience. There is some discussion from female students at the end. Actually, the video for women interested in learning Wing Chun is located here.